About Us
WAN S.A. is a Warsaw real estate development company, operating dynamically for 26 years in the real estate industry, focusing on four segments: residential, office and retail, warehouse and leisure.
The completed projects were primarily intended for sale. However, in the course of many years of its activity, the company has created a parallel portfolio of commercial and residential properties for lease located in Warsaw, Gdańsk, Płock, Cracow, Łódź and the Masurian Lakeland.
In 2022, the third stage of the Osiedle na Zdrowiu investment in Łódź was completed. At the same time, the next stage of the investment began – Osiedle na Zdrowiu IV, and the construction of the second stage of a investment in Warsaw on the border of Bielany and Żoliborz – Apartamenty Marymoncka II. Two spacious penthouses in Warsaw, as well as a penthouse in Kraków, were sold. The investment called Twoja Ludna in Milanówek was completed, which included the construction of four semi-detached buildings. At the same time, all commercial premises at ul. Czerniowiecka, as well as some service premises at ul. Hanki Czaki, were sold. Construction of new office projects – Babka Tower II stage I – and warehouse projects located in Kutno, Załuski, Adamowice, Wola Pękoszewska and Chrzczonowice have also been started.
In 2023-2025, further attractive projects are planned:

Special attention to the selection of attractive locations, original projects following current trends and requirements as well as application of the latest technologies are the basic criteria that make the company's investments successful.
Among the investments completed up to now, particular attention should be paid to:
Achieving the current market position was possible because of harmonious cooperation with recognised design offices, such as JEMS Architekci (Warsaw Metropolitan building, headquarters of Gazeta Wyborcza), Kulczyński Architekt (Olympic Center), financing institutions (mBank, PKO Bank Polski, Alior Bank , BGK, DNB Nord, Raiffeisen) as well as partnership cooperation in two investments together with the company Echo Investment listed on the Warsaw Stock Exchange.
In 2007, 25% of the company's shares were acquired by a fund managed by Morgan Stanley Real Estate, a group belonging to Morgan Stanley, one of the largest financial and investment institutions in the real estate sector in the world. In December 2021, Polish shareholders bought back 25% of the company's shares.
The market position of our company is confirmed regularly by the Developer's Certificate and the Business Credibility Certificate of the global company Dun & Bradstreet.
What distinguishes us from the competition:
Credibility based on 26 years of experience and awarded certificates;
Diversification of the investment portfolio – warehouses, offices, apartments, retail, leisure (sale or lease of real estate)
Coordinated and motivated team of specialists;
Careful selection of investment location;
Proven methods of project supervision;
Quick decision making process;
Active continuous monitoring of the market;
High quality of customer service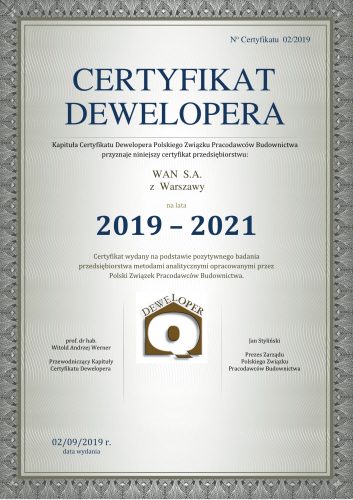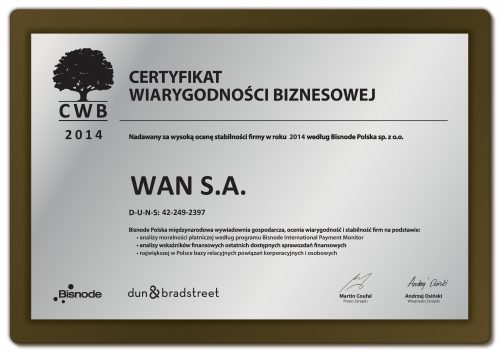 What distinguishes us and what we focus on:
we are a disciplined and integrated real estate development company focusing on land purchase, construction and sale as well as leasing finished facilities;
before we decide on an investment, we select customised projects and then we analyse all conditions;
we take steps to increase the value of the company at every stage of our operational activity (we build a value chain);
we represent a high management culture, with an emphasis on entrepreneurship and dynamism, i.e. on the selection of the best professionals on the market and continuous improvement of our qualifications;
we aim to increase value and reduce risk, among others, by diversification of our real estate portfolio, including residential premises, offices and warehouses;
we build a transparent company that applies proven corporate management principles;
we place our investments in different geographical locations; we perform projects in large, dynamically developing regions, constantly monitoring the latest trends and market expectations.